Make up tips for Woman of all age groups.
Before we give you makeup tips, there are some simple skin care tips that women of every age group should follow. Natural beauty comes from within and not from makeup.
Always apply sunscreen to protect your skin from exposure to harmful sun rays. It is also important to keep your skin hydrated by drinking ample water.
Understand your skin type and its skin care requirements. Every skin type has different requirements.
It is important to pay attention to your lifestyle, as well. A balanced and healthy diet is very important for your skin.
Always keep your skin hydrated and moisturized.

Women in their 20's
Women are naturally blessed with a perfect skin at the age of 20. So, here are some simple makeup tips for girls in 20s.
Being young gives us the liberty to experiment with endless makeup products. So, it becomes all the more essential to follow the 'CTM' regime. The cleansing- toning – moisturizing regime will keep your skin supple always. Before going to bed always clean your skin followed by a toner to close the open pores and then a moisturiser to keep your skin hydrated.
This is the best time to find out different products that suit your skin in different seasons. Always remember 'concealer' is your best friend as it masks your blemishes and pimple scars. Tinted moisturizer and foundation gives you rosy glow on your cheeks.
Women in their 30's-
Apart from the normal skin care regime that you might have already developed, here are a few more makeup tips for those in 30s.
Apply a blush that matches your skin colour, to give your face a glowing and fresh appeal instantly.
Always apply two strokes of blush. The first one should blend into your skin, while a brighter shade will help to highlight your beautiful features.
Make sure to keep a neutral lip colour in your kit, which will add to your personality without being loud or garish.
By this time you should already be sure about what colours suit your face. So, it is best to stick to a palette of colour that looks good on you.
Women in their 40's and above
In 40s, women have to pay more care to your fine lines. At this age your makeup mantra should be minimal and natural.
Always use a primer, because it will help to hide your fine lines and age spots.
Use cream based blushes and eye shadows, as they will help to hide fine lines around your cheeks and eyes.
It is best to go for more neutral colours at this age.
Use eyeliner and mascara to define and highlight your eyes. Remember, it is best to use matching colours for both.
Highlight those odd silver streaks of grey hair with any hair colour that suits you. This would add up to your personality as well.
Also experiment with very subtle and soft plum shades for your eyes and pink shades for your lips.
Women in their 50's and above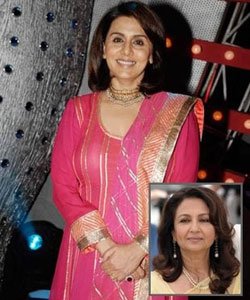 The skin at this age tends to lose its natural moisture due to hormonal changes associated with menopause. So, make sure to moisturise your skin regularly by using extra-rich formula.
Say 'No' to heavy foundations, which might look like a mask on your face, as skin tends to lose its elasticity at this age.
Lightweight and cream based foundations are your safe bet.
Sport a smart and elegant haircut that will give you a well-groomed look.
Highlight your lips and eyes using matching lip pencils and eye makeup.
Be regular in using a rich moisturiser even when you are not wearing any makeup.
As your eyebrows get sparser at this age, lightly line them using eye-shadow and an eyebrow brush for a natural look.

Tags: